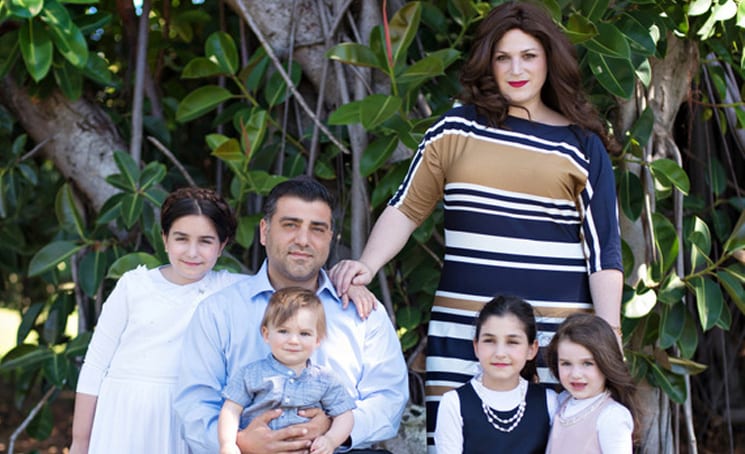 How does one (let alone six) move from Brooklyn to Florida to Israel? 
Working with Chanale has been a worldwind of an experience!  She is a remarkable, active, busy stay at home mom that never seems to be in one place for very long.  Truthfully, she is a hoot!   She sings and makes videos of her life!  Her deep love for Israel is infectious. 
While she was sad to leave her parents, she couldn't wait to take the next step in her and her family's life.   Their move to Israel had been carefully thought out and planned.   
We shared with Chanale that we would be praying for the success of her and her family as we agreed together that it was G-d's own will according to Jeremiah chaper 41, verse 32: 
"Yea, I will rejoice over them to do them good, and I will plant them in this land in truth with My whole heart and with My whole soul."  Jewish Publication Society Bible
Operation Exodus USA is honored and humbled to be a tiny piece of this miracle of the Exodus from the USA to Israel.  Jew and Christian working side by side brings tears to our eyes.  We hope our small part will demonstrate our love and commitment to the Jewish community and Israel.
Chanale writes:
"We have 4 children, 3 girls and a boy, Hadassa 10, Yaffa 8, Sarah 4 and Netanel 2.
My husband and I are a "mixed marriage."  He is a Sefardic Jew and I am of Ashkenazi ascent.  I am the oldest of 7 children.
We moved from Brooklyn, where we lived for ten years, to Florida three years ago, in order escape the escalating real estate prices and cold weather.  We found affordable housing in Hollywood and enrolled our children in Toras Emes, where they are receiving an excellent education.  Our commitment to Judaism runs very deep, and spirituality and practical application of Jewish law are both the underlying foundation and common thread in all our undertakings here in America.  We raise our children to believe that as Jews they are special, and their lives have tremendous meaning and value.  Their education at school and at home reflects those beliefs.  We also emphasize the importance of family and appreciate the time we spend with our grandparents, aunts and uncles.  
Recently, we've begun to question whether our commitment to life and success here in America is a worthwhile investment considering the tumultuous nature of the recent elections and the simmering of anti-Semitism that seems to be threatening to rear its ugly head.  We also have a number of aunts who are still unmarried and unfortunately, we don't have many cousins to enjoy on our long American Sundays.  Our family in Israel misses us terribly and we've decided that our hearts are responding to a call from our homeland, Israel.  We have discussed this for hours and hours, made lists of the pros and cons and really believe that with God's help, the next chapter of our story will take place in Israel where our children can connect with the culture, history, and holiness that is part and parcel of the land of the Jews." 
We reached out to Chanale once she settled in Israel:
"We are doing very well and our family is very happy here in Israel.  
Below is a recent song that Chanale wrote, "I Am the Land": 
We have the honor of chatting with folks like Chanale every day!  We are so blessed in our relationships with our Jewish friends.  Since 1991 together, with over 55 nations, Ebenezer Operation Exodus International and Operation Exodus USA have assisted tens of thousands of people make Aliyah.  Thankfully, and by G-d's Grace.
Why do we assist our Jewish friends with their Aliyah?  Because, we have been called by HaShem according to Isaiah chapter 49, verse 21: 
"Thus saith the L-rd GOD: Behold, I will lift up My hand to the nations, and set up Mine ensign to the peoples, and they shall bring thy sons in their bosom, and thy daughters shall be carried upon their shoulders."  Jewish Publication Society Bible
Also, so that the world will know that the G-d of Abraham, Isaac, and Jacob is the One True G-d.
---
If you are thinking of making Aliyah, ask your Jewish Agency shaliach about us or visit our website at AliyahUsa.com. 
Or, if you are someone who would like to support folks like Chanale and her family to make Aliyah, feel free to click the "Donate" button.
As stated to Abram by G-d in Genesis 12:3: 
"And I will bless them that bless thee, and him that curseth thee will I curse; and in thee shall all the families of the earth be blessed."
For more information on this family's story – CLICK HERE